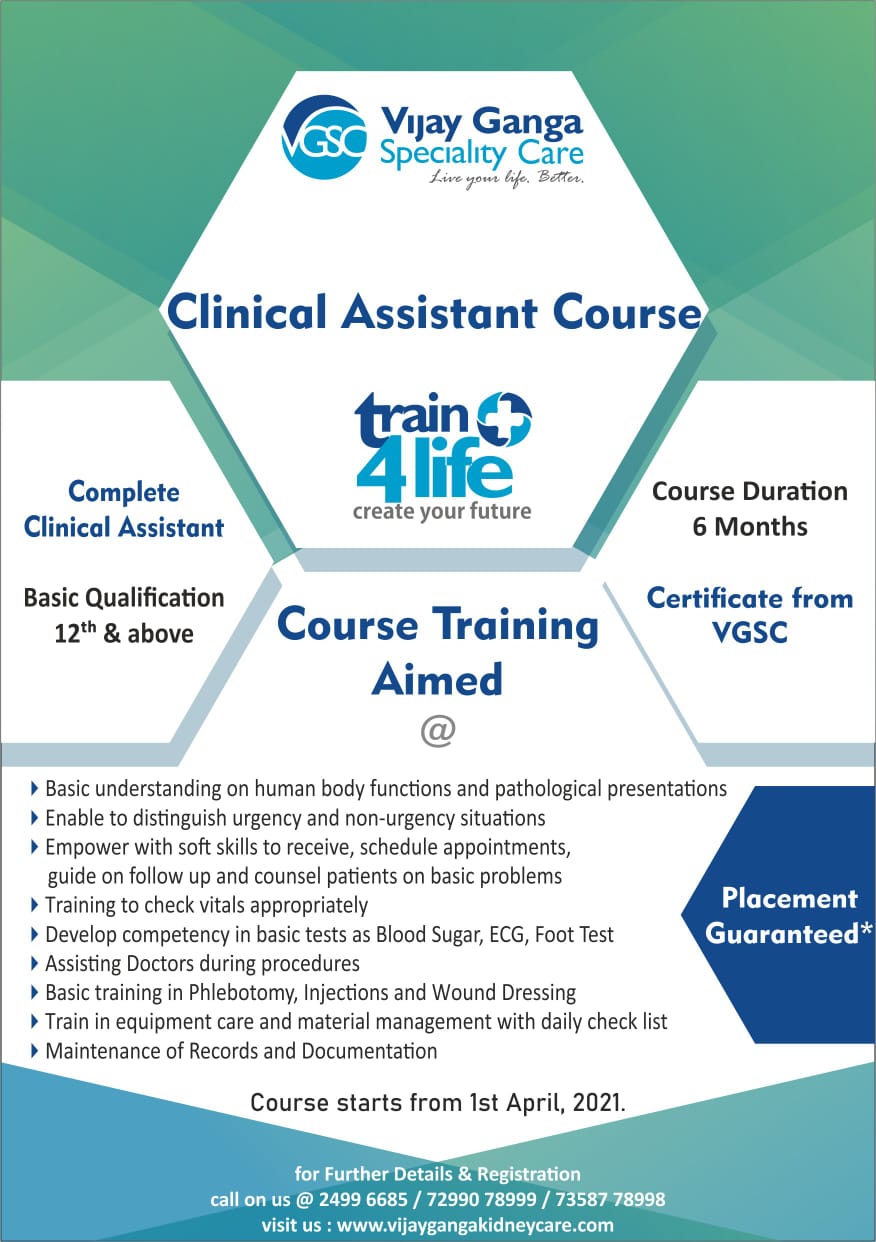 Train4Life is creating vital, high-paying jobs in healthcare
Become a Certified Dialysis Technician in just 18 months/ 12 months for nurses
Admissions OPEN
Also offering 3 month refresher course classes for the practising Dialysis nurses / technicians.
Train4Life is a technologist training academy that certifies 10+2 graduates and current dialysis technicians with internationally accredited BONENT certification. With the rapid increase in kidney disease cases around the world, the demand for highly qualified technologists has reached an all-time high. Technologists are an
integral
part of dialysis care, often spending more time with the patient than the doctor themselves and contribute directly to the patient's quality of life.
For patients suffering from kidney disease, one of the most popular courses of treatment is dialysis. Nephrologists give the dialysis prescription and depend entirely on their technologists to deliver the necessary care for their patients. Technologists are so important because during dialysis, hemodynamic and complex chemical changes take place that require constant vigilance. In addition, they should be able to carry out the necessary instructions supplied by the Nephrologist.


Many people have become technologists through hands on experience and being exposed to dialysis units. Others have taken courses to learn more about the same. However, it will soon become mandatory in India to be a certified technologist before applying or being considered for a technologist's job position as it is abroad.


Recognizing the need for qualified technicians, along with the need for job creation in today's society (50% of India's population is below the age of 25) the Train4Life academy was started. We aim to develop world class technicians and are one of the only BONENT approved programs across India.

What is BONENT?
The Board of Nephrology Examiners Nursing and Technology (BONENT) is a non-profit organization that promotes excellence in the quality of kidney patient care in the United States and around the world. It is known as a premier international organization for the certification of Nephrology professionals and sets the benchmark for what is considered world class patient care.
Who can apply?
The BONENT training program is open to recent 10+2 graduates who want to become Dialysis technicians / nurses, current technicians practicing in hospitals or other clinics but want to get internationally certified, and nursing attendants.
In order to ensure that the huge demand for qualified technologists is met, we have implemented a unique Earn-While-You-Learn program where deserving students receive stipends along with their hands on experience at world class dialysis clinics.
Faculty:
The faculty consists of both Indian and Internationally trained doctors with decades of experience in this field.
- Dr. Sarita Vinod Dasari, MD, DM, American Board certified Nephrologist
- Dr. Venkatesh, MD, DNB Nephrology
- Dr. Sivalingam, MD, MRCP (UK), CCT Nephrology, FRCP
In addition, visiting doctors and partner hospitals will ensure that all BONENT requirements are met to yield a holistic and practical education.
- Dr. Ganesh Yadlapalli is one of the visiting international faculty. He is the Associate professor of Medicine, Nephrology Division of the Department of Internatl Medicine in the University of Cincinnati's Medical School
Course Details:
18 months for 12th graduates
12 months for nurses